Show Posts
This section allows you to view all posts made by this member. Note that you can only see posts made in areas you currently have access to.
Topics - Matthew Kramer
Pages: [1]
2
« on: July 23, 2022, 01:22:07 PM »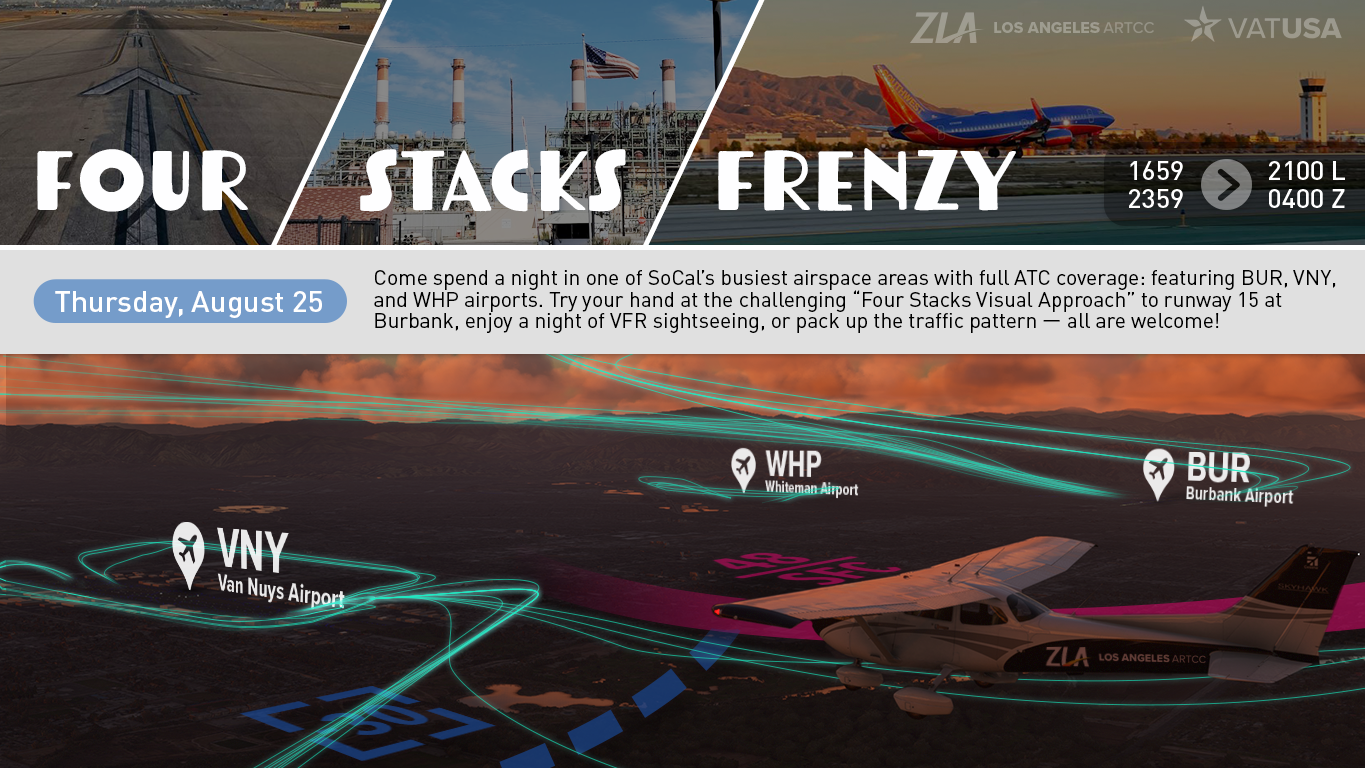 Maintain 5,000, report the four stacks in sight.
Join ZLA and SoCal Area 1 as we staff up Burbank, Van Nuys, and Whiteman. Get that VFR practice in, shoot the Four Stacks Visual to 15, see if you can fly the LDA-C using raw data, and enjoy an afternoon in the San Fernando Valley.
Airports: KBUR, KVNY, KWHP
Date & Time: August 25th, 1659 - 2100 PDT
Date & Time (Zulu): August 25th, 2359 - 0400z
3
« on: August 18, 2019, 05:58:35 PM »
The Los Angeles ARTCC is proud to announce several new, or maybe not so new, initiatives designed to increase pilot and controller involvement and understanding. We are making a few changes to our community to encourage pilots and controllers to interact on a regular basis, while also hopefully increasing both pilot and controller quality across the board. First, ZLA is happy to announce we are moving to a
new discord server
. We are dedicated to making it as easy as possible for our controllers to access information, training staff, and resources, while also giving pilots a dedicated space to interact directly with the controllers on the other side of the scope, ask questions, and generally enjoy this hobby.
Second, we are announcing the resurgence of ZOTSOT! We are currently accepting applicants for the ZLA OTS Special Operations Team (ZOTSOT). ZLA has a long history and relationship with pilots that enjoy flying in the SOCAL and Vegas areas. In the spirit of that partnership we are opening applications for pilots to join this highly skilled team. The main purpose of ZOTSOT is to provide controllers with a diverse and unique traffic picture during their Over The Shoulder (OTS) exams or to test on their normal sessions for advancements. ZOTSOT pilots are encouraged to bring their helicopters, their airships, their light sport aircraft, and their good sense of challenge to help test the mettle of ZLA's students. It's a great opportunity to practice some of the more unique and challenging aspects of our airspace while also putting our best to the test.
What it takes to be a ZOTSOT Pilot:
Have a desire to help student controllers
Be able to fly on the VATSIM Network
Follow the ZOTSOT Guidelines in the forums Here

Work with the TA and Instructors
(Coming Soon) Get your own Signature Badge in the ZLA Forums
Interested? Read more
HERE
and send your CID, email, and why you are interested to
[email protected]
. Please note - by applying you are consenting to periodic emails in relation to ZOTSOT only.
Finally, ZLA is recommitting to its partnership with VATSTAR pilot training. Building off the success of our first one, we're excited to announce our next pilot/controller event coming this Fall. Going forward we hope to create more events bespoke to the training program VATSTAR provides, and generally mutually contribute to pilot and controller quality by utilizing our airspaces' most challenging and rewarding features including Special Flight Rules Area, Tower Enroute Control Routes, unique airspace classes and a hotbed of GA flying.
From pilot ratings, to the first ZOTSOT programs, intense controller training, and a reputation for an intense workload, ZLA is proud to build on our strong history of pilot/controller relations and is thrilled to be able to continue that legacy on the VATSIM network. Please join us in
our new discord,
visit us at
www.laartcc.org
, and feel free to reach out to us anytime via email.
Blue Sky,
Your friends at ZLA
Nick Christopher, ATM
[email protected]
| Matthew Kramer, DATM
[email protected]
| Josh Borges, TA
[email protected]
4
« on: July 03, 2018, 06:48:38 PM »

Featuring our two beachside bravos, ZLA presents Friday Night Ops at KLAX and KSAN!
Pilots are encouraged to fly from neighboring ARTCCs to San Diego or Los Angeles or vice versa. Pilots wishing to fly between these airports should be prepared for ground holds and release times.
5
« on: June 13, 2018, 09:55:36 PM »

This Labor Day Weekend, come lose a little in lost wages with ZLA! Get lost in lovely Las Vegas with your friends at the Los Angeles ARTCC. We'll be staffing KLAS, approach and center. VFR and Satellite airports encouraged!
6
« on: April 07, 2018, 08:04:26 PM »
Please join me in welcoming Chris Carstens as ZLA's newest Facility Engineer! Chris has been a hard working mentor for ZLA and we're excited to welcome him to a staff position.
Pages: [1]